Do you have a bunch of amazing recipes? Are you ready to share them with the world? Maybe you should consider starting your own food blog! There are some really amazing resources out there that were insanely helpful to me.
Here are 5 great tools I use and highly recommend:
OK, so let's take a deep dive into what each of these programs offer…
If you really want to start a food blog, this is the best place to start. Food Blogger Pro is a membership based training program from husband and wife team, Lindsay and Bjork, of the popular food blog, Pinch of Yum. They cover everything from food photography to back-end techie things. They have answers to questions you didn't know to ask (no joke!) and consistently add new videos. There is also as forum feature with a large community of other foodies who have started food blogs that can help you along the way. Getting feedback and tips are really crucial, so this built in network of food lovers really helps. Enrollment opens up every few months and it currently costs $29 a month to be a member. It's honestly worth every dime, and will help you avoid making unnecessary mistakes.
If you're interested in signing up, but not sure about the price, try this handy Food Blogger Pro coupon!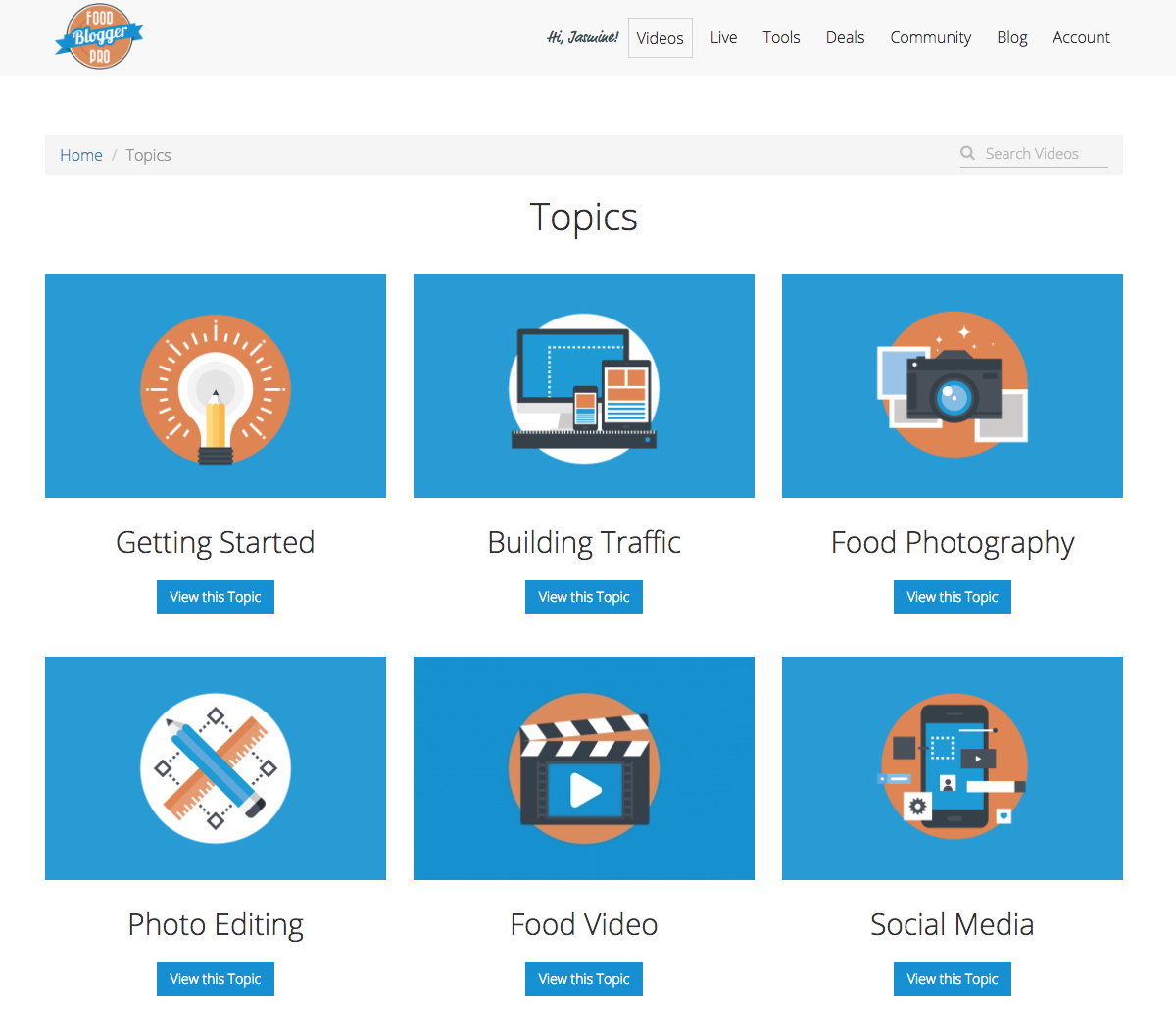 I currently use Blue Host for my website. This self-hosting web platform is pretty easy to navigate, even for non-techies like me. When you're just starting your food blog, self-hosting is ideal because it's cost effective and is good for a smaller to mid-size websites, with more basic needs. As a site grows and gains more traffic, a heartier platform may be needed, but BlueHost is great for a new blogger. Their tech support is really quick and efficient too. I've used their web chat feature on a couple occasions to fix mini-disasters!
WordPress is a behemoth system with lots of offerings to enhance your food blog's appearance and functionality. WordPress.com is really user-friendly and requires a bit less maintenance. They have a lot of great paid themes (website designs) and plugins(add-ons for features that aren't included) that really simplify your experience. WordPress.org (what I use) is more of a DIY situation, but you can customize your site however you want. Depending on which route you go, prices will vary.
Whether you choose to use WordPress.com or WordPress.org though, you're definitely going to need tools to protect your site. JetPack is a great plugin that takes care of anti-spam and website back-up (incredibly important). If your site is ever down, you can use JetPack to restore it in a snap. This paid plugin really takes the fear of losing all your hard work out of the picture. It's also reasonably priced at $5 a month.
The most fun part of any blog is making is pretty and representative of you! I currently use the Kale Pro theme from Lyra themes, but they have a couple other beautiful, food blog friendly themes to choose from. The Pro version is $35 to start and then $7.99 a month after that. They also offer really comprehensive free themes. I liked some of the added functionality of the paid version (i.e. font choices). Take a look at their options and see what's best for your blog.
Once, you've got your blog all set up you might want to monetize it. Affiliate marketing through ShareASale allows you to partner with a ton of different companies to promote products or services on your blog. They have a lot of food and health companies you can work with as well. The application is easy and the online portal is very straightforward.

If you want to learn more about my food blog and cooking style check out this page!
Hope these resources help you get started! Happy blogging!
Disclaimer: I use all of the tools listed here and recommend them. I will receive a commission for any purchases you make through the above links.