Free yourself from the unnecessary sugars and additives in bottled spaghetti sauce. Fresh, homemade, tomato sauce is easier than you think!
It was 2 a.m. I quietly tip toed downstairs and rummaged through the fridge, trying not to wake anyone up. I pushed aside the milk, perfectly glazed meatloaf and a large bag of fresh NYC bagels to get to it.
Then the AHA! moment. A glowing jar of homemade tomato sauce that my mom had made earlier that day. I poured a bunch into a coffee mug and ate it cold.
I know you're probably thinking "who eats a cup full of tomato sauce as a late night snack?"
Just try it, you will get it too! If you're used to Prego or Ragu, this tastes nothing like that. This marinara sauce is chunky but still light. You can make it spicy if you like. And it's the base for some pretty tasty dinners.
Uses for homemade tomato sauce:
Pasta:

Spaghetti sauce, tomato gravy, marinara; whatever you call it, it tastes great on some freshly boiled pasta. P.S. For a healthy twist, I really like brown rice pasta because it tastes most like REAL pasta

Chicken or Eggplant Parmesan:

This tomato sauce from scratch serves as the perfect glue between those layers of breaded cutlets and melty cheese

Bread dip:

As evidenced by the pics, this tomato sauce is also bestie's with homemade garlic bread!

Meatballs:

You can obviously top your meatballs with fresh tomato sauce, but I like to use it as a binder in the raw meat instead of eggs or milk; it adds great moisture

Pizza night at home:

Homemade tomato sauce doesn't have added sugar in it, so it's easier for it to seep into the pizza dough rather than dry out like some bottled sauces
Which canned tomatoes should you use for this sauce?
To make the best homemade tomato sauce, you need to start with the right tomatoes. Ideally you want naturally sweet tomatoes, so look for San Marzano tomatoes (from that region in Italy) or California tomatoes.
What not to get:
canned tomatoes with added sugar
fire roasted tomatoes (they're not bad, but you just don't want a charred flavor in this sauce)
seasoned sauce; if it has fresh basil in it, that's fine but anything else will overpower the flavor
My favorite canned tomato brand is Muir Glen (linked and pictured below). They have the sweetest California tomatoes, plus no acidic tin can flavor.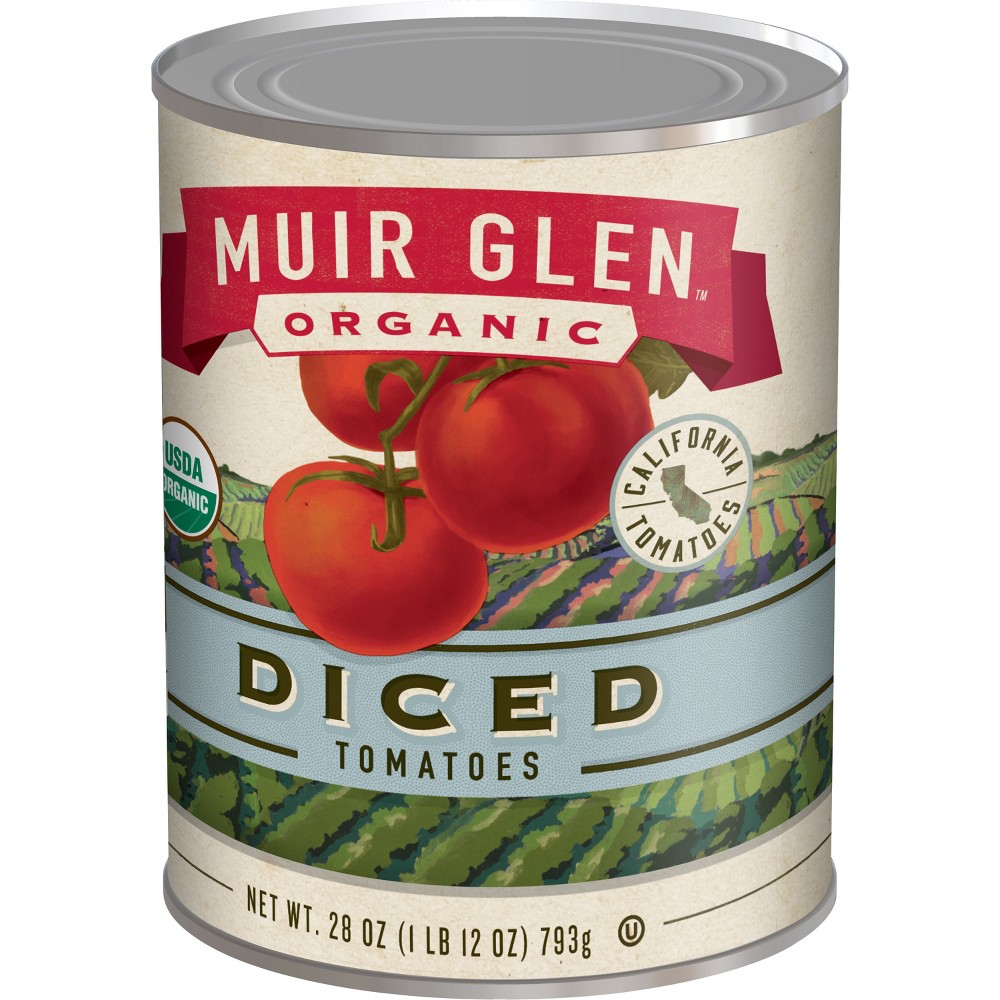 How to thicken tomato sauce:
A lot of tomato sauce recipes use tomato paste as a thickener but I don't usually have that in the house so I have a hack for that. If you're making this homemade tomato sauce with pasta, reserve 1/2 cup of the starchy pasta water, gradually add it to the sauce until it's thickenend and glossy.
If you aren't making pasta, just throw a handful of raw pasta into the tomato sauce as it's cooking. You can pick them out when the sauce is done, but the starch will seep into the sauce and thicken it right up!
Tomato sauce storage tips:
Freeze it:

When the sauce is cooked and cooled to room temparature you can use ice cube trays or popsicle molds to freeze the sauce. The sauce will stay good for 3 months in the freezer. You can pop a couple tomato sauce ice cubes in a cup in the microwave or into a saucepan, cook until defrosted and pour over your favorite pasta!

Bottle it:

Put the sauce in mason jar and store in the fridge 7-10 days (never lasts more than 2 days in our house!)

P.S. you don't need to buy fancy mason jars. You can just sterilize glass jars you already have (i.e. jam jars, condiments) in boiling hot water. Remove the paper labels and sterilize for about 5 minutes; use tongs to take the jars out of the water.
P.S. Check out How to eat more vegetables: A picky eater's guide to learn how to sneak more veggies in your meals!
Pin this recipe on Pinterest, share it on Instagram and let me know what you think in the comments!
Free yourself from the unnecessary sugars and additives in bottled spaghetti sauce. Fresh, homemade, tomato sauce is easier than you think!
Pin Recipe
Print Recipe
Ingredients
1

can

diced or whole tomatoes (28 oz)

1

tbs

olive oil

1

onion, finely chopped

2

garlic cloves, chopped

1 1/2

tbs

fresh parsley, chopped

Stick to fresh or frozen parsley, don't use dried for this recipe

1

tsp

salt

pinch

black pepper

1/4

tsp

red pepper flakes

1

handful

pasta

(macaroni, rigatoni or penne are good)
Instructions
Add the canned tomatoes to a blender or food processor. Puree until smoother but still slightly chunky (usually a few seconds).

Heat a deep pot to medium heat. Add olive oil and onions to the pot. Cook the onions 3-5 minutes until transcluscent. Stir a couple times with spatula while they cook to make sure they're not sticking. When the onions are cooked, add in the garlic, stir and cook for an additional 30 seconds to 1 minute.

Quickly add the pureed tomatoes to the pot and stir, so that the onions and garlic is evenly mixed in. Add parsley, red pepper flakes, salt, black pepper and stir.

Add the pasta to the sauce. Reduce the heat to low, cover with a lid and let simmer for at least 25 minutes. Note: You can simmer on low for 1-2 hours for a deeper flavor (the chunks will break down though).

To serve: Remove pasta, pour it over whatever you like. Enjoy!
Disclaimer: If you purchase any of the linked products above, I will receive a commission. I do however use the products I recommend and stand by how awesome they are!
P.S. Let me know if you want the garlic bread recipe! It's not healthy but it's crazy good!
Did you try this recipe? I'd love to see how it turned out! Snap a picture and tag @brightrootskitchen or use #brightrootskitchen on Insta.